Shark Week Sheets
Just because you don't talk about it doesn't mean it's not happening. Period sex ladies, yes I'm talking sex while on your period. A lot of women are doing it and if you're not I'm sure you've thought about it. Not only does period sex help ease the symptoms of PMS and cramps but some women even find that they are more sensitive during period sex and reach orgasms faster.
If that's not enough of a sell to try it I don't know what is.
Now, I know most of us have heard of the blessed "period towel." You know that towel you lay down before you get down. But I'm sure you're also aware of the fact that the "period towel" isn't all that sexy and tends to move around as much as you do.
Well let me introduce Shark Week Sheets. Here to solve all of the above problems and more. Chelsea the founder and creator, had the same issue all of us do when having period sex and decided to do something about it. With her crowdfunding campaign under way she is hoping with your support we can all be able to use Shark Week Sheets.
TELL ME ABOUT SHARK WEEK SHEETS.
It's all 100% cotton, it's 21 x 31 inches, and it's very, very, very, soft. The entire back is tacky so you lay it down on your fitted sheet and it doesn't move like a "period towel" and you can just peel it off. You play on it, bleed on it, and just peel it off and throw it away. I have two patterns right now but I want to have three total. It was very important for me to make sure nothing looked clinical or geriatric, and that there was no crinkle sound when you moved on it so it would never be mistaken for a wee wee pad for your dog. You can put it on your sheet, lay on it like regular and not even know it's there plus it absorbs any blood that gets on it so it doesn't get on you.
YOU ARE TALKING ABOUT TWO SUBJECTS THAT ARE PRETTY STIGMATIZED. WHAT CHALLENGES HAVE YOU FACED?
It's all about being sex and period positive. With everything that men and women are exposed to from a young age there is really nothing that shows positive relationships, what everyone all of their life is searching for. A lot of people look to porn like that is how you're suppose to have sex or how you're suppose to be intimate with somebody. Basically, I had to come to terms with myself that I have to be the one that is going to be outspoken about it because that is my company. I just want people to feel comfortable. I mean that's why it's called Shark Week Sheets, it's funny but I also want it to be something beautiful and chic not something that looks dirty or cheese because it really isn't.
DO YOU FIND THAT A LOT OF PEOPLE HAVE PERIOD SEX? OR ARE WILLING TO ADMIT IT?
You know I started asking people about their period sex stories, or if they've even had it or want to have it? Of course I ask in the appropriate setting because I want people to be honest and for them to be comfortable. I've actually gotten a lot of positive feedback and that lead me to create The Period Post on my website. A place where people can share their experiences, anecdotes, or give advice.
YOU ARE LAUNCHING A CROWDFUNDING CAMPAIGN TO HELP YOU WITH SHARK WEEK SHEETS?
I'm launching a crowdfunding campaign through I Fund Women, which is kind of like a Kickstarter or an Indie Go Go but is dedicated to funding women's businesses. Right now I'm asking for $50,000 dollars in 30 days to help get Shark Week Sheets off the ground. My campaign will be starting soon so I would love it if people would stop by the Shark Week Sheets site to get the details of how they can help!
WHAT ARE SOME SURPRISES THAT YOU'VE COME ACROSS IN CREATING THIS PRODUCT?
Interestingly enough men have actually been more receptive and open to talking about it which I was really surprised by. They aren't as shy or embarrassed about it, some have never actually even had it. When I show people the actual design of the sheet and they see the box, it makes sense. It's just people are so taken aback because they aren't expecting "period" and "sex" to be the two words that come out of my mouth. It's been really helpful for people to see the sheets because then they're like "oh, this is really cool, this is a great idea" and they know it's not a joke. Overall I've gotten really positive feedback.
DESCRIBE YOUR SLAY.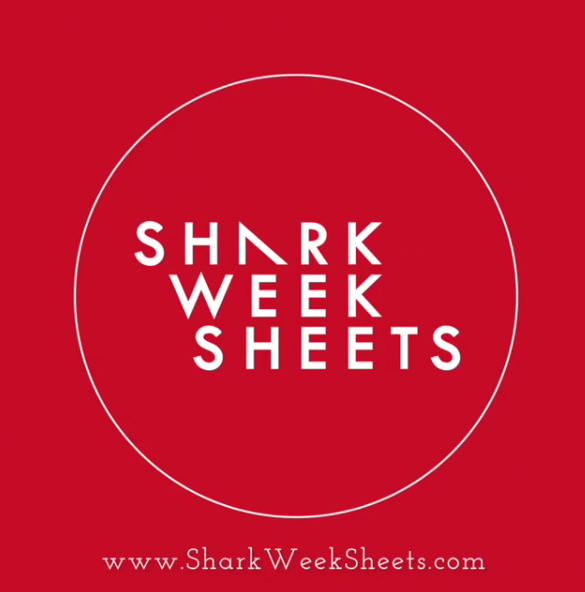 You know I have to say it's been very difficult. I've already had one business and I sold it which was great. But it's hard to slay everyday because I'm at a different age, and I'm starting over again, and it's like how do I get that inspiration back you know? It's been a roller coaster in such a way so for me to stay motivated I just have to remind myself that this is the life that I chose. I don't know what else I would go do because I want to be my own boss.
Make sure to follow Shark Week Sheets on Instagram as well as check out her site for the latest on when her crowdfunding campaign starts!