Christina Hammond: Do It For The Gram
Becoming a #1 Best Selling Author on Amazon within 24 hours of releasing her first e-book, "Do It For The Gram" Christina has gained the attention of women from all over. Including BET's Brittiany Cierra, TV One Senior Producer Krystal Franklin, and Founder of BlkCreatives Melissa Kimble.
Showing everyone how to capture the attention of others via Instagram captions all while promoting your inner queen. We had a chance to speak with Christina about her book and find out what other projects she has in the works.
WHAT INSPIRED "DO IT FOR THE GRAM?"
Anytime I've been with friends and we're taking photos for our Instagram pages, the very next question is "What should my caption be?" After it happened at least 50 times, I saw there was a need for a caption guide. Either women don't have the time to look for captions, or they aren't sure what direction they should look in. This is how "Do It For The Gram" was birthed!
WHAT DO YOU WANT THE AUDIENCE TO GET FROM THIS BOOK?
Although the idea was solely centered around using quotes for captions, it eventually evolved into more. I realized that the quotes that I share with women could also be used as affirmations to implement in their daily lives. My goal is to encourage women through those affirmations combined with marketing strategy advice in order to accomplish their personal brand goals, career goals, even travel goals.
SO WHAT'S YOUR FAVORITE CAPTION TO USE AND WHY?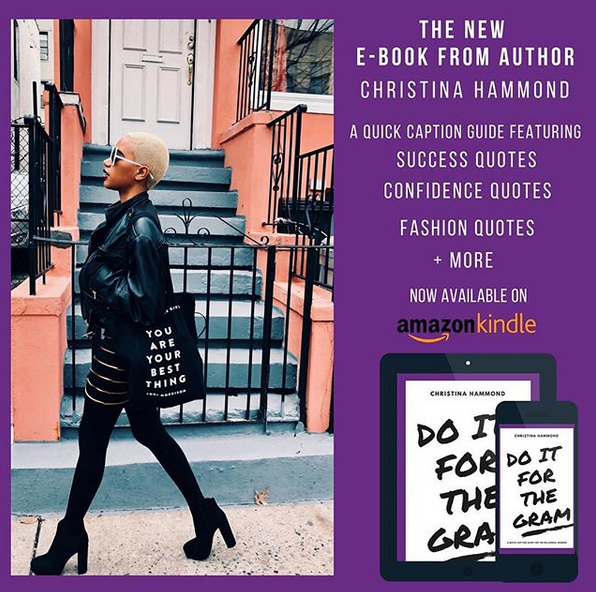 Honestly, my favorite caption in this particular book would have to be " Women who wear black live colorful lives" said by Neiman Marcus. Wearing all black is a huge apart of my brand and I've been wearing it almost everyday for about 2 years now. I had the opportunity to meet and talk with Yvette Noel Schure and she too wears black majority of the time. That day she told me wearing all black is powerful, and it's become my thing ever since. I usually pair it with a statement piece (like a colorful sweater or funky shoes), but yes strangely enough that is my favorite quote in #DIFTG. I even have a quote of my own in there, but this is my favorite.
WHAT DID WRITING THIS BOOK TEACH YOU ABOUT YOURSELF?
This was definitely a learning process. I learned that when someone tells me no, it fuels my fire to accomplish it even more. I know that sounds extremely cliche, but there are projects I've been "passionate" about, but put little to no effort / action behind them. This is actually the second book I've written, but the first to be published. The idea to compose a book of affirmations actually started as a children's book. I chose to work with an artist who worked diligently in the beginning, but soon after became lax and then non existent in the process of completing the book. I was so discouraged and slightly gave up on my dream to become an author. I thought that's all I had in me, but I was wrong. When there is a gift inside of you, there is nothing or no person who can stop that gift from flourishing. Once I got back into the groove of writing, the new concept emerged and here we are with DIFTG.
UGH, WE LOVE THOSE KIND OF STORIES! BUT YOU'RE NOT ONLY AN AUTHOR, YOU'RE A CO-FOUNDER AND EXECUTIVE PRODUCER?
Yes! I'm Co-Founder of HERstory which is a blogging publication I started alongside my college friend Danielle Stevenson. We had this idea to feature women we know who do amazing things, and introduce them to our networks. It's what we like to call a digital Queendom. We know so many phenomenal woman, and it's important that we share each others accomplishments, announcements, etc. in order to keep our businesses flowing and the community growing. We utilize our social media platforms to share events, services and products of the women in our network, whereas on our site, we dig deeper into the lives of those women, giving our followers exclusive access to their individual journeys throughout their career or personal life.
And yes I'm the executive producer of, "The Black Excellence Series" a 3 part series that I am working on alongside Sharde Green of Saint Glam Nail Bar. I am all about promoting our best selves, whether that be on a project solely based on women, or Black people in general. While I am a lover of reality television, I believe it somewhat distorted the perception of us as a people. I want to change that. I want this project to be a reflection of what I know of our people, and that is Black excellence. The first episode slated to come out this Fall!
HOW EXCITING! WELL WE KNOW THAT YOU ARE DEEPLY INSPIRED BY ART. HOW HAS IT SHAPED YOU INTO WHO YOU ARE TODAY?
Art is everything to me. I actually want to own a museum in Italy one day. While I am not an actual artist, I admire and am secretly jealous of those with the skill set. Art gives people a voice to express themselves, it evokes emotions, it is life. Although I can't draw or paint, I do use my platform, Galerie Nina to showcase the talent of artists and pair that with my love to give back. Each year I host an art pop up show in my hometown (DC) where partial proceeds from those events go to the charity I decide to partner with that year. I've worked with one artist in particular Noelle Chinn the last two years, and continue to scout up and coming artist to participate.
I love to look at art, I love to learn about art, I love to learn about artists, I just love it and will continue to incorporate art and charity into my brand.
YOU'VE BEEN ABLE TO DO SO MUCH. WHAT IS ONE THING YOU KNOW NOW YOU WISH YOUR YOUNGER SELF KNEW?
Slow down, because instant gratification does not guarantee longevity. I am always in a rush, and I think that comes from having that short attention span they always mention millennial's have. However, within the last year I've made a conscious decision to take my time. It's important that I sustain longevity with all my endeavors, and taking my time to understand the purpose of what I am doing will guarantee that.
HOW DO YOU SLAY?
Another one of my favorite quotes in DIFTG is "Keep your heels, head, and standards high" said by Coco Chanel. That is how I slay the day away. I put on my all black, and any pair of pumps I have, ready to take on the day and whatever challenges that may bring.
Do It For The Gram is available on Nook or your Amazon Kindle. Stay inspired by keeping up with Christina on her Instagram.