Andi Smiles
Ladies it's that time of year again...the dreaded tax season. A time of year dedicated to headaches, confusion, and many WTF moments. Oh the joy!
Since we know what you ladies are going through we thought we'd help y'all out by talking to an expert and sharing her words of wisdom with you.
Meet Andi Smiles, a Money Badass and Certified Professional Coach. Destroying the boring stereotype of a traditional "money man" this money WOMAN has taken her eight years of bookkeeping knowledge, combined it with her need to teach, and created a genius business geared towards helping you and your small business solve some money problems.
Check out what she has to say.
WHAT ARE SOME TAX PREP WORDS OF WISDOM?
It really depends on where you are in your business but here are a few.
Check In With Your Tax Preparer Before You Start Prepping. A lot of people prep without actually knowing what they need and they either do a bunch of extra work or they miss something really important.
Giving Yourself Time To Prep. Generally give yourself two weeks if not longer, maybe a month to really do your tax prep. This way you're not rushed, you're not making mistakes, and you're not letting deductions fall through the cracks because you're too burnt out to deal with it. Like mileage, that is a huge one for people.
Make A Home For Everything. This is a practical way to say, "hey put all your tax documents in one place so you won't have to sped a lot of time looking for stuff later," emotionally you'll also have sense of organization.
Don't Get Stuck On Questions. Another mistake I see people making is getting into their tax process and coming across a question then sort of going off into the world of the internet to figure it out and then never come back. So I teach people to write their questions down and keep going.
Use My Training "Panic Free Tax Prep." This is really the step by step guide, step one, these are the documents you gather. Step two you do this.
WHAT TYPES OF PRODUCTS DO YOU OFFER THAT WILL HELP US GRAB HOLD OF OUR MONEY PROBLEMS?
Digitally I have three products I offer. My signature one is called "Badass Business Finance" which is eight weeks and is really about walking through the whole process of building a healthy financial system that is holistic and addresses all the ways business finances work together. I have another smaller training that's called, "Quick and Dirty Quickbooks." Which is a 20 part video tutorial series that is really for small business owners who want to use Quickbooks online but don't need all the bells and whistles. So the tutorial walks them through everything like how to get set up and features most business owners would need to know. Then I have a series of mini trainings. These are quick trainings that are on one specific topic, that are 60 minutes and at really low price points. Two of the most popular ones are "Panic Free Tax Prep" and the other is called "How Do You Pay Yourself?"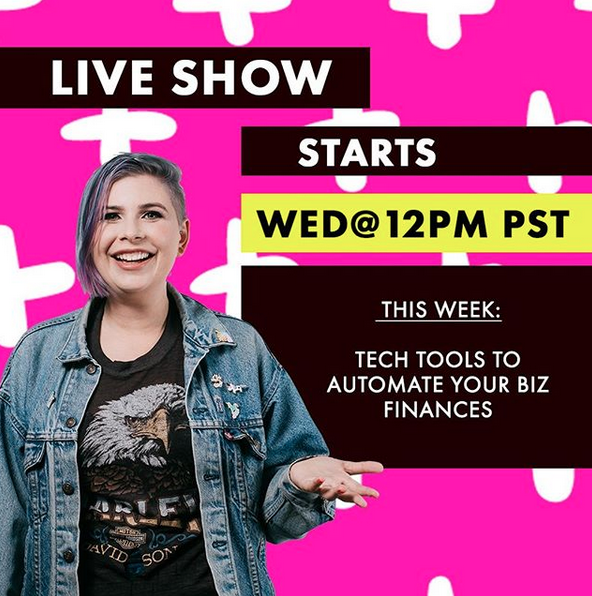 YOU SPEAK ABOUT HOW THERE ARE A LOT OF EMOTIONS AROUND THE TOPIC OF MONEY. WHAT DO YOU MEAN?
We receive a lot of messaging throughout our life that we are people that do not get to know about money, have access to money itself or have knowledge about money. Money and Entrepreneurship tends to be a very masculine industry. The other side is that knowledge about money is very coded. There are a lot of terms and formulas and it's basically more complicated than it needs to be. So we really internalize these messages that we aren't good at money, "bad at money" is what I hear a lot. I also get, "I'm really bad at money how will I run my business." When in reality you're not bad at money, you've just been told for so long that money isn't something you get to know about and you've internalized that.
FINANCE IS A MALE DOMINATED INDUSTRY. WHAT ARE SOME STRUGGLES AND ENLIGHTENING MOMENTS YOU'VE EXPERIENCED ALONG THE WAY?
Some of my biggest struggles have been my own internal stuff around money. This is something I talk a lot about with my audience. I loving refer to myself as a "financial hot mess." And what I talk about a lot are the beliefs I've had about money that really held me back in my own financial journey. And that was really hard, I felt crappy for a long time because I felt like an imposter. That was a big struggle for me. But I also say for someone in this industry who is queer, is tattooed, has bright pink hair, and who doesn't fit the paradigm of what we expect from a money person has actually been to my benefit. Because the truth is people want to hear about money from someone like me.
WHY IS MONEY SUCH A TABOO & OVERWHELMING SUBJECT?
I think it's because we don't learn about money ever. We are lucky if we have parents that teach us about money. Usually we learn about money at a young age from watching the people around us. So the first thing is we are overwhelmed because we never learned this stuff and suddenly we are thrown into running a business. There has never been a formal or informal setting to learn about money and when you start a small business you get in this mindset that you will never be able to figure it out. We have knowledge gaps that we need resources to fill and that's just the truth.
HOW DO YOU SLAY?
I think my greatest strength and how I SLAY is by being authentic to who I am, it really resonates with people.
Looking for some one on one help, maybe some more money information, or just want to see all the dope things Andi offers? Make sure to check out her out at AndiSmiles.com.