MCM: Daniel Toney
Our first ever Man Crush Monday goes to our amazingly talented friend, Daniel Toney. Working with top designers like Michael Costello, who has designed pieces for the one and only Queen B and many other well know celebs, Daniel is killing it when it come to his fashion illustrations.
His passion for painting, illustration, fashion and design along with a little help from Instagram has presented opportunities one can only dream of! We were lucky enough to sit down with Daniel as he gushed over what he's done and what's coming next.
TELL US HOW IT WAS WORKING WITH THE MICHAEL COSTELLO?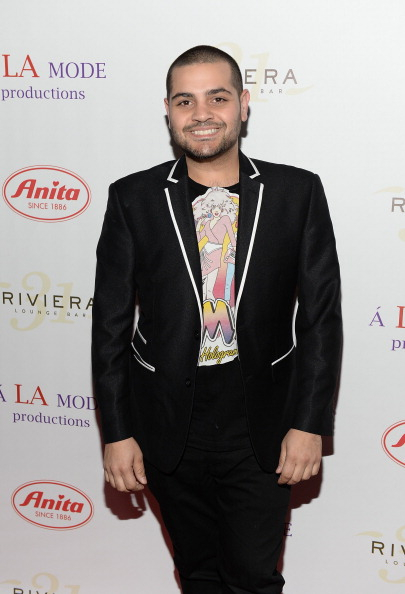 Working with Michael Costello has been an absolute dream come true. He's one of those designers that I pulled for on Project Runway and then watched him go on to become a powerhouse designer in his own right. I've been a fan of his for a long time (his gowns are to die for) and when I made my first Instagram account he was one of the the first people in the industry that I followed. Oddly enough that's how I started doing work for him. He had a special project and was searching for the right fashion illustrator for the job and then he found me on Instagram, asked me to come to his studio a day or two later and the next thing I knew I was working on this big project. It was so surreal since I've only been out of my MFA (fashion design) program for a couple of years and it's almost unheard of to get to work with such a big name inthe industry so soon after graduating. I wish I could share details of the project but unfortunately I had to sign a NDA since it involves a pretty big celebrity, not to toot my own horn. I will definitely share the details on my social media as soon as I'm able too. So the day before I was set to bring the illustrations to Michael's studio downtown I received a text from him saying he wanted my illustrations for the walls of his first store for the private opening on August 19th. I was floored but obviously incredibly excited so I took my portfolio with me and he and I picked out the pieces that we thought would look best in the space. My boyfriend and I attended the opening and it was like something out of a dream, seeing my illustrations on the walls next to his gowns. I can hardly describe how validating it was for me as an artist. I've done more work for him since and hope to continue working with him in the future. He really is a sweet heart, so down to earth and yet so incredibly talented. Being in his studio is the ultimate experience for anyone who is in or just loves the fashion industry. Overall it has been one of the most exciting experiences of my life and I hope I can continue making moves in the fashion industry from here.
TELL US ABOUT YOUR FASHION JOURNEY.
I've drawn ever since I was old enough to hold a pencil and I've always felt that I see things a bit different from most everyone around me. I went to college and I really started to come into my own and become more comfortable with myself. I pursed a degree in graphic design and then a second emphasis in illustration and painting. As much as I loved graphic design I always yearned for more. I finished that degree and I produced a line of surfboards that won me a bunch of awards and actually went int production. I was 21, with my own surfboard line; it was insane and gave me much more confidence to keep pushing. For that reason I stayed to pursue illustration and painting, I just wanted as much creative training I could get. When I decided to apply for fashion school to get my MFA, I applied to three and got accepted into all three but decided to go to the Academy of Art University in San Francisco. I had just started coming out to my friends and family so that played a part in my decision. The fashion program was incredible; I met so many talented and influential professors and people that made my love for fashion grow exponentially. When I finished my MFA I had just started dating my boyfriend and he got a new job in LA, which was perfect for me because I didn't see my future in fashion in San Francisco. Like most fashion design students had delusions of grandeur when we first moved, I quickly realized the reality of the industry starting out would be designing t-shirts for Forever 21 five days a week. While there's nothing wrong with that, it just wasn't for me. With encouragement from my boyfriend I started experimenting with my fashion illustration style and I also started an Instagram account for the first time. That was all about a year and a half ago and almost every opportunity that I've had in the industry is thanks to that decision and the platform it provided.
WHAT ABOUT FASHION AND ILLUSTRATION SPARKS YOUR CREATIVITY?
I think it's the fact that fashion illustration is the combination of my two greatest passions, fashion design, and illustration. I still love design and I would love to work on that side of the industry more in the future. for now fashion illustration is what's speaking to me and I'm listening haha. There's just something about fashion illustration that it rides the line between commercial art and fine art.
WHO ARE THE TOP 3 DESIGNERS YOU WOULD LOVE TO WORK WITH?
Oh, that's a really tough one. There are so many designers that I adore but I think I would prefer to work with a smaller fashion house like Michael's where I actually get to have a one on one with the designer himself/herself. With that said, even though it's not a small fashion house in the least, I'm obsessed with Vera Wang lately. I think most people outside of the industry think of her as only a wedding gown designer but her ready to wear collections have been so darkly romantic and swoon worthy that if given the chance to work with her I might die right there on the spot. Ok that's an exaggeration but if you aren't familiar with her last few ready to wear collections you must look them up. I mean I wouldn't say no to illustrating her wedding gowns either, just so we are clear haha. Another designer that I love is Haider Ackermann!! I don't know if many people outside the industry would recognize his name but I've been so obsessed with his work for years. His design esthetic is just so cool. I hate to say that because "cool" is just a horribly overused word, but it's true. The way he designs and styles his looks, it's just so effortless and cool. Like Tilda Swinton is probably his most well known client and she's edgy, cool, confident, and nonconforming. I just love that! I think the third designer would have to be Alexandre Vauthier; I've already illustrated a few of his pieces when I was interviewing to teach fashion illustration at Otis College of Art and Design. I'm always so drawn to his collections, they are unique and yet there's still a wonderful continuity from season to season. Honorable mention to Proenza Schouler because I've illustrated pieces from one of their recent collections that they shared on Instagram so I'm eternally grateful for that.
YOU TEACH AT OTIS. WHAT MADE YOU DECIDE TO START TEACHING.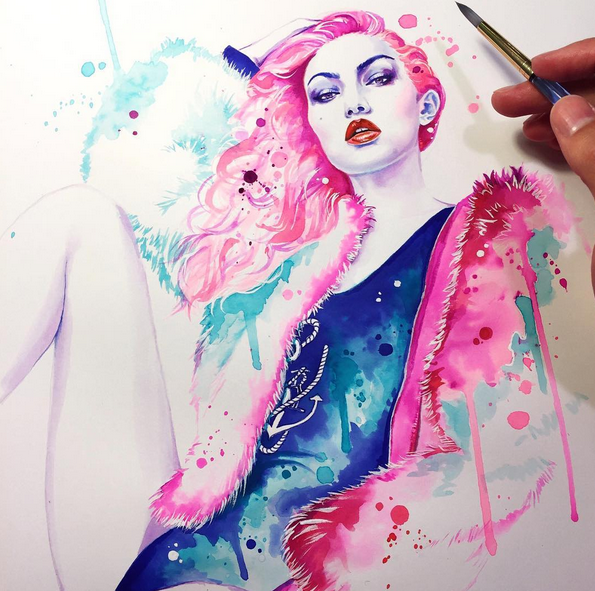 So this is another opportunity I owe to good ole Instagram. It all started with the current fashion illustration instructor at Otis, Paul Keng, he's a total rock star in the fashion illustration world with like 144K followers on Instagram. Anyways shortly after I started my Instagram sharing pictures of my new work, I received a message from Paul asking if I had ever considered teaching and the rest is history. It's one of the top fashion design programs in the country so the interview process was incredibly rigorous. I interviewed for over a year and found out that I got the job this summer. The faculty is incredible and the students are so talented. I had wonderful professors that really helped me to grow in confidence and ability as an artists and I really hope that I can do that for my future students. It should also be noted that my mom taught for thirty plus years so maybe it's in the blood. I'm very excited to be in a creative environment and be able to pass my knowledge on to the next generation of designers while still having the time to produce my own work.
WHAT'S THE FUTURE HOLD FOR DANIEL?
Hopefully the future holds a lot more creativity and better yet production of new and interesting work on my part. I would definitely love to be designing again and I think working at Otis will give me the time to do that. My boyfriend and I are moving in September so that I can have my own studio space for the first time ever! Currently my drafting table is in our living room haha. I hope that I can continue to make connections and work with power players in the industry. Most of all I just hope to continue to produce valid work. I never want to settle into a comfort zone and just produce work that all looks the same. I think a lot of fashion illustrators work in one signature way and I think that's wonderful for them, but I love to work in a lot of different ways and I just can't see putting myself in a box like that. I've got quite a few new projects in the works and I can't wait to share them with my friends and followers. The support I get means the absolute world to me! I'm thankful for the opportunities I've had and I just want to always be grateful and humble.