Pegactive
We've all been there looking at the fitness ladies gracing the covers of magazines. Feeling the pressure of what your summer body is "suppose" to look like for the upcoming season. It's easy to get lost in what the media perceives as healthy and forget that healthy looks different on everyone.
In our interview with Pegactive, this very topic came up. Learning from experience Pegah, founder of Pegactive, went from the media negatively impacting her view of healthy, to an eating disorder, to now helping others confronting similar challenges while guiding living a healthy lifestyle.
WHAT IS PEGACTIVE?
My heart is really women's fitness. So I do personal training, I do a lot of remote coaching where my client and I have an initial meeting where we talk about their goals. I'll then put together a fitness program for them, send it by email, and update it as we go. So whether it's a home workout or gym workout, it's customized to them. I do pre and postnatal guidance and have something called a "clean eats guide," which is my E-Book. I come out with a new one every season where I put together fun recipes, list my favorite snacks, as well as my favorite to go items. My goal is to help people see that meal prep can be quick, easy, fun, and tasty. These seasonal "clean eats guides" go along with my annual workshops that I do. Pegactive also does group fitness where say someone wanted to do a Pop Pilates class in the park with a big group of people I can do that as well.
YOU ARE VERY OPEN ABOUT YOUR BATTLE WITH AN EATING DISORDER.
Yeah, I dealt with Orthorexia for about six years.
Orthorexia is the term for a condition that includes symptoms of obsessive behavior in pursuit of a healthy diet. Orthorexia sufferers often display signs and symptoms of anxiety disorders that frequently co-occur with anorexia nervosa or other eating disorders.
It genuinely started out with me wanting to be healthier. I've always been petite, and for someone who has always been on the smaller side when you start drinking, having the late night munchies, and stop working out all together it catches up to you. I began to notice that I wasn't looking very healthy and you could tell I was just surviving off of junk food with my friends. So I started opening up all these health magazines and whatever I saw celebrities doing or eating I would try it out. I started a gym routine of nothing but cardio and then began to get on the healthier track when I started counting calories. I think that is exactly where my problem started; I became so obsessed with calorie counting that I completely cut out anything that I thought was bad because I expected that was the only way I could lose weight. I'm naturally a competitive person, so at the time I was competing with myself, and when I would see the scale going lower and lower I would tell myself, "Oh my gosh, how much more could I lose?" During this time I didn't pick up a weight at all and was doing straight cardio seven days a week for two hours and not getting enough nutrients. It came to the point where my lowest weight was 88lbs; I'm 5'4". It wasn't until my brother-in-law sat me down and talked to me where I was like, "Oh my gosh, what am I doing?" After that, I cut out cardio from my workout, stopped counting calories, and let go of things slowly because it honestly takes time to come out of that mindset. Now I'm no longer my eating disorder, but as humans, we're not perfect. So do I have days where I'm like, "I feel gross" oh yeah but I have the right approach and the right mindset to let that thought process go. Because there is no way in hell, I'm letting my strong body now go back to that girl, even if it is just my thoughts.
YOU'VE SEEMED TO LEARN A LOT ON YOUR FITNESS JOURNEY IS THEIR ONE LESSON THAT YOU'VE TAKEN FROM IT ALL?
I think it's patience...all of it, all of it is patience. And it goes for both sides of the spectrum. For me, even though I rid myself of my Orthorexia thoughts, getting back to a healthy weight the correct way wasn't easy. It wasn't easy at all. Even though I completely cut out cardio and was eating a high-calorie diet, my body because it was already so petite it took a long time for me to gain muscle. So fitness wise it took a long time for me to get back to a healthy weight, but once I did it was so fulfilling. So it's the same for the other way around, for someone who wants to get to a healthy weight. Patience, it's not going to happen overnight, but it will happen if you work for it, if you stay motivated, and push past your comfort zone.
WHAT IS YOUR GO TO WORKOUT?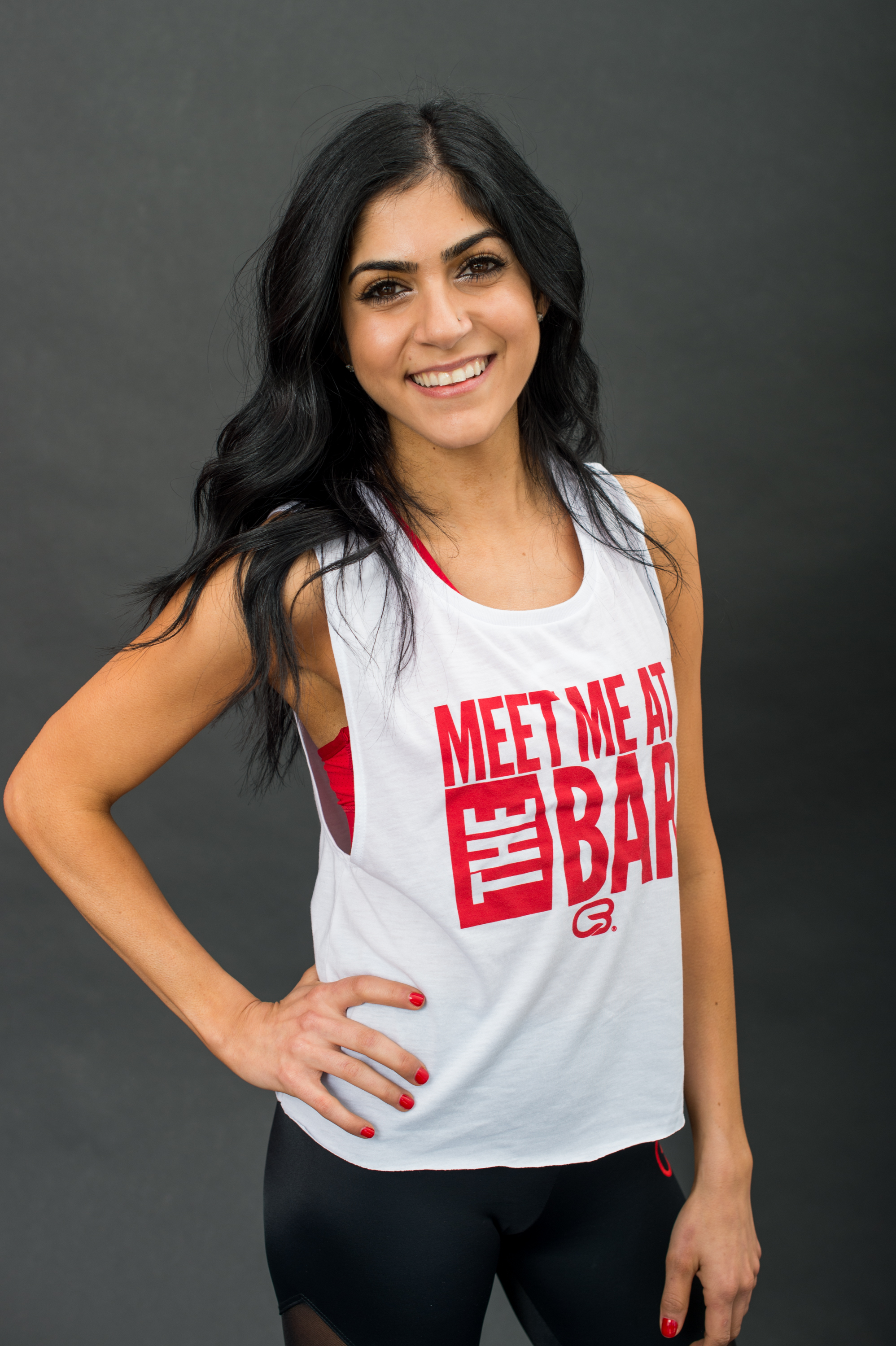 I love leg day. I teach seven to ten classes at Cycle Bar in San Jose and Pop Pilates I don't do any cardio outside of that. So about four to five days a week I dedicate time to lifting weights, and I'll do it by body part. So one day I'll do shoulders, one day I'll do back, one day I'll do chest and arms, and the next day legs. My favorite by far is a perfect leg and bootie workout.
 
WHAT DO YOU TELL YOUR CLIENTS TO HELP KEEP THEM MOTIVATED?
As a professional, you have to level with them and see where they are coming from and their mindset. And from what I've found is that it's really good to remind them why they started doing this in the first place. Like, what motivated you to get here, why did you get this far? Then also go back and go over their accomplishments. The one thing I say often is that we need to celebrate the little things because we are so fixated on what the end is going to be that we wait and it's not good. I think that every little baby step is so important.
 
WHAT DO YOU GRAB WHEN YOU'RE CRAVING SWEETS?
Without a doubt dark chocolate. I'm obsessed, I have such a sweet tooth, and I will choose sweets over anything. Dark chocolate I love, and I just tried Lily's, and it's like a sea salt dark chocolate that is so good. I love Halo Top ice cream; I could literally eat that all day and like multiple times.
 
THE MEDIA PLAYED & PLAYS A BIG PART IN THE WAY YOU AND OTHERS VIEW WHAT HEALTHY IS. WHAT IS YOUR STANCE ON HEADLINES THAT TELL PEOPLE "HOW TO GET THEIR SUMMER BODY?"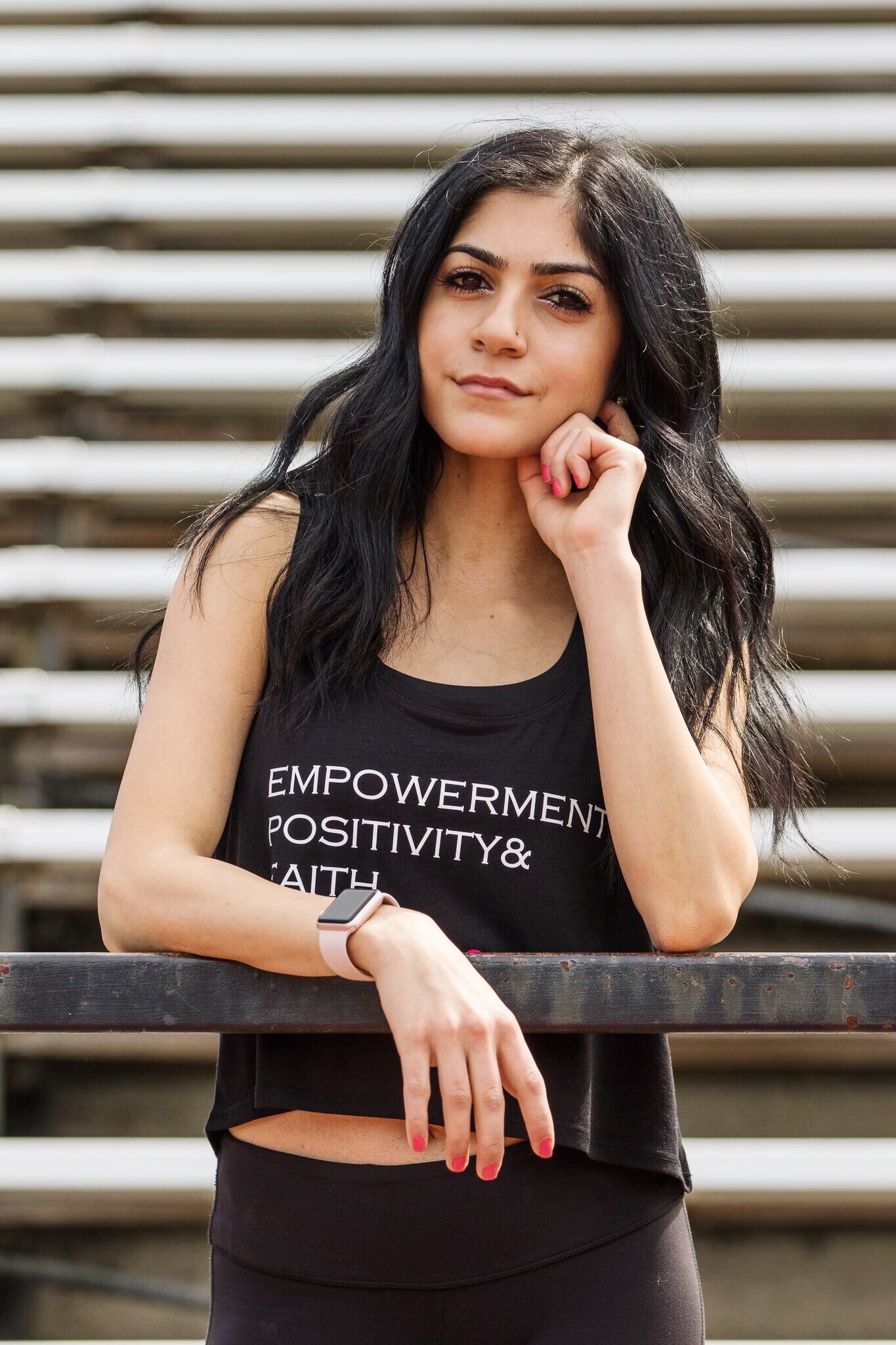 I say that theses are options or fun ways that you could go about trying things for yourself. But a lot of times when you open up fitness and health magazines they talk about how this certain workout is going to lead to this. I kind of feel like they put this false advertisement out there that if you do this exact thing you're going to get this correct result which isn't true. What I recommend people do meet with a professional. So whether you go to a gym or a location where there are trained professionals to help you get started. I think it's important to have guidance especially when you're just starting. Don't get me wrong it's entertaining to read that magazine, and I still do, but it's effortless to get influenced by what's in them too. Those types of articles should be viewed as entertainment and not seen seriously. Because if someone like me who picks up something and expects to look certain can end up taking it way too far.

See all that Pegah and Pegactive has to offer by visiting here site and following on her Instagram!