Citrus & Gold
Creator of health and wellness blog, Citrus & Gold, Akansha Agrawal journey into a healthy lifestyle was one of self-realization and education. The time she spent learning about how to take time for self-care in this busy world effectively has inspired her to share her experience with others who wish to embark on the same journey.
We had the chance to check up on this lovely lady for some helpful hints and tips on how to live a balanced and healthy lifestyle.
 
WHY CITRUS & GOLD?
I started blogging back in college just for fun, and I was writing about anything and everything. Then I started realizing I was writing about the theme of fitness more and more. Because I felt like there was a void when we were talking about fitness, not only with physical fitness but mental health as well. So my goal with Citrus & Gold is to talk about getting fit not only for your body but your mind. The name came from two things. Citrus, when you think of it, for me, I think of something healthy, fresh, and awakening. I wanted something about me, so the Gold part came from living in California, the Golden State, where I've lived my entire life and from my culture because, in India, gold is a very symbolic metal and color.
HAVE YOU ALWAYS BEEN INTERESTED IN HEALTH AND FITNESS?
I was active growing up as I swam in high school for a couple of years. But then during college, it was not a priority at all. In my junior year of college, I went to study abroad in Barcelona, Spain and I had a blast, but I was the unhealthiest I've ever been in my life. Eating wise I wasn't doing well, exercise I was doing stuff but not sure what I was doing, but the biggest thing was mental health. I lost confidence in myself; I just didn't know who I was anymore. So after my junior year summer, something changed, like 180, in my head. I started learning more about nutrition, started to exercise more. I ran my first 10k that summer, and a year after that I did my first half marathon. I started to develop a routine and see how fitness just helped my mind.
WHAT CHANGED?
You know after being gone for six months I came back looked at myself in the mirror and just didn't recognize myself anymore. I had gained some weight, I didn't feel good about my body, and I also got this terrible stomach flu when I was in Spain where I was in the hospital for a few days. So my entire digestive system was thrown off and all of a sudden I couldn't tolerate food that I could before. So it was an internal, biological change as well as a mental change. It was like "wow" why I have been focusing so much on going out and partying instead of focusing on me?
SO SHE SLAY READERS LIVE BUSY LIVES. DO YOU HAVE ANY TIPS FOR A BALANCED HEALTHY LIFE?
Oh, my goodness, I've already been super swamped today, so there are a couple of things I like to do. If you're at work and you can bring some herbal teas to sip on, that makes me feel calm right away. If you have some essential oils, I happened to have some lavender oil in my purse this morning; I just dab a little bit on my wrist, and that aroma kind of makes me feel a bit more relaxed. I also recently tried meditating, and I know that is something people are very intimidated by this. But even if you can take like two minutes to close your eyes, sometimes even the elevator if no one else is there I just close my eyes for those 30 seconds and just breath, it makes a huge difference. And for the balance part of this question, I would say schedule everything. It's tedious and kind of annoying but schedule time for self-care, schedule time for what you want to accomplish.
WHAT ARE 3 SNACKS YOU FIND YOURSELF EATING ALL THE TIME?
I try to keep them as wholesome and less processed as possible. First nuts are always a great option. Lara Bars are great on the go snack, RX Bars are great too. Sometimes if I can get to some carrots and hummus or some dip and chip to treat myself, and anything with avocado.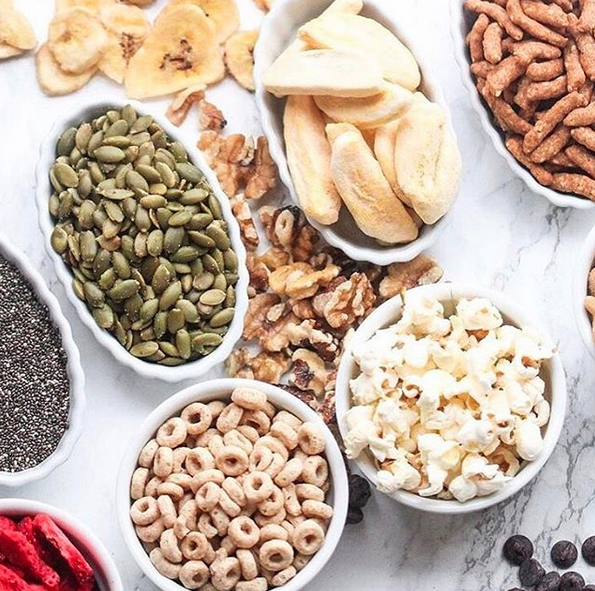 WHAT IS YOUR REGULAR FITNESS ROUTINE LIKE?
I think it changes all the time which I think keeps me interested. A constant that is always there is running, so that's why I like to sign up for races. I just finished my seventh half marathon which is amazing. So when I'm training for races, I'm more consistent with running at least three times a week. Then I like to do a bit of strength training so that it can be body weight like Pilates, or like real strength training with weights, like dead lifts, squats. I love that stuff! And I like to throw in some Yoga if I can. I think the typical week would be three days of cardio, most likely running, strength training for 30 minutes twice a week, and then I throw in like a fun day of class or maybe like a yoga class.
WHAT IS THE ONE THING KEEPING PEOPLE FROM LIVING AN ACTIVE LIFE?
I think the thing that holds people back is fear. Especially in a group fitness setting, I've experienced that, where you don't know what you're doing because you are never done say, Pilates, and you're scared of being judged by people. I think that is one major thing which beats even laziness when it comes to being motivated to go to the gym. It is because you don't know how to handle yourself there. So that is one thing I'm trying to be very open about and say this is supposed to be for fun, it's not meant to look perfect when you're doing these things. Try it out. I feel like there is just so much information out there and so much going on that making that first step can be overwhelming.
WHAT IS IN CITRUS & GOLD'S FUTURE?
That is such a big question that I'm still figuring out. But I want it to be a source of inspiration and an honest approach to health and wellness. And I really want to target the South Asian community because I do feel like health and wellness as far as lifestyle is something that is somewhat known to the community. So I want to be a spokesperson for that community and a source of inspiration to show them what that lifestyle looks like and provide education on how they can go about it.