April Lockhart
Some of you may recognize this lovely lady from a certain talent show called Rising Star where she wowed the world with her soulful and unique voice. Although since her days on the show she has left music to dive into a world engulfed with just as much creativity, fashion and beauty.
If she's not traveling the world, jet setting from New York to Paris, which - sigh - lets be honest we all wish we could do, she is working non stop. We had chance to speak with April about her life, fashion, and beauty must haves.
WHEN DID FASHION AND BEAUTY START CAPTURING YOUR ATTENTION?
In my mid-teens, I was pursuing music and I think that's when my awareness of fashion and beauty kind of sparked. When I was 18, during Rising Star, we had amazing makeup artists and I was just loved every minute of it. I remember being the only one that would ask them to explain every step as they were doing my makeup (probably annoying, but I was so interested). I also wanted the MOST extra makeup (laughing). I would ask if they could do ombre purple lips or sparkly eyes, I loved experimenting with it.
I eventually decided music wasn't really for me, but felt really drawn to the fashion industry - so I applied to FIT (Fashion Institute of Technology) in New York. And it all snowballed from there. New York will do that to you.
WHAT IS YOUR FAVORITE THING ABOUT IT?
I love the confidence it gives me. It sounds silly to say, but I feel like I can conquer life when I'm in my favorite outfit and my makeup is fierce. I love the changing pace of it, paying attention to how the industry has vastly changed from even five years ago with the growth of social media. It's crazy to me to see beauty brands blow up over night because someone like Desi Perkins or Jaclyn Hill reviewed one of their products. It's a totally different game, and I'm all about it.
A huge misconception, in my experience, with the fashion industry is that people are so cutthroat. I actually find that if you aren't totally selfish, and you're willing to help others succeed, that people are very willing to do the same with you. I think the best part about being a millennial in NYC in the fashion/ beauty industry is that all the other girls your age are also trying to find "their thing" and that's how collaboration happens. I love meeting people that you click with and you both are just like "how can we help each other succeed?" - THAT'S KEY. And I honestly do feel that the industry can be like that sometimes. Of course, there are places where people are cutthroat, but I say just be nice to everyone, and they're usually nice back.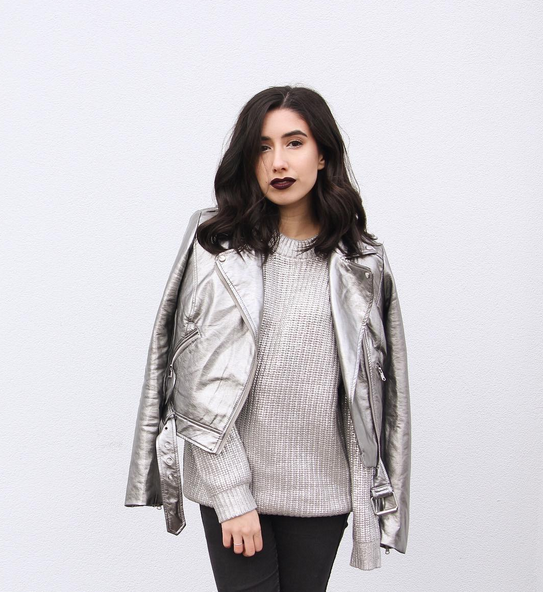 WHAT ARE YOUR MUST-HAVES WHEN IT COMES TO SKIN CARE?
Oooo - this is like asking Anthony Bourdain to pick his favorite food. Staple items I couldn't live without are a cleansing balm, a retinol, sunscreen and sheet masks.
For specific products though - I'll let you in on my DREAM TEAM night regimen.
And on a dry day - pretty much any Korean Sheet Mask ever. I tried the Tony Moly Snail mask the other day and it was AMAZING.
Was that overwhelming? Probably. Too late now (laughing).
YOU SEEM TO LOVE COFFEE. WHAT IS YOUR FAVORITE KIND? IS THERE A LUXURIOUS KIND YOU DRINK WHILE IN PARIS?
YES. I'm a Lorelai-Gilmore breed that can just legitimately drink coffee from the time I get up until late afternoon and never get tired of it. I actually look forward to getting up, because I know I can have coffee. I can drink it pretty much any way, but my favorite is definitely flavored. There's a regional coffee shop from Ohio, where my boyfriend lives, called Winans and it's like the BEST place I've ever been. He's always sending me their coffee. They make a blend called "Highlander Grogg" that's butterscotch, caramel, and vanilla and it's like WOW. you just need some cream & it's like heaven.
I've got to be totally honest, Parisian coffee is not my jam. I'm like a grande/ venti kind of girl, and the coffees here are super small. They really prefer to just have an espresso, which just isn't enough for me. So needless to say, I shamelessly brought coffee with me.
WHAT IS YOUR GO TO OUTFIT AND WHY?
My go-to girl power outfit is culottes, a high-neck top, a leather jacket, and pumps or a trendy sandal. This is my staple interview outfit, and it never fails me. It's the perfect balance of professional and fashionable, and still gives me a chance to show my style - my favorite culottes are this burnt orange color.
So many people I know go too basic for an interview. In the fashion and beauty industry, there's no need for you to wear all-black anymore. Now, this isn't to say go wear a floral dress and sandals, but a nice balance of black with a pop of color. I also have so much love for culottes - they're not too form-fitting, they're trendy, and they scream power to me. I have this secret rule where I don't wear dresses to interviews because I think pants make a woman appear more powerful.
WHAT ARE 3 THINGS YOU WOULD TELL YOUR YOUNGER SELF?
1. Seriously, stop plucking your eyebrows - you're going to regret it.
2. Tanning isn't cool, sunscreen is cooler.
3. Always lift up the girls around you. Help them succeed, because you'll end up succeeding in the end too, and you'll feel a lot better than doing it alone.
WHAT'S THE BEST PART ABOUT LIVING IN BOTH NYC & PARIS?
Both cities are amazing, but totally different, which I didn't expect. New York is home for me, nothing can replace it. It's very fast-paced, everyone is going a million miles an hour, which is totally opposite of Paris. Everyone in Paris likes to relax, take things slow, and it takes like 40 minutes for the waiter to bring your check (not a joke). However, Paris has really grown on me. Obviously it's one of the most beautiful cities in the world, and probably the worst part of Paris would be equivalent to the nicest part of New York.
Fashion and beauty in Paris really are all they're cracked up to be. Most of the people on the street look like they just got the best facial of their life, 12 hours of sleep, and are dressed like they're going to fashion week. It's real. But I have to say, that living in Paris is a totally different experience than visiting. It's definitely not a glamorous city like movies, and the people can be very unfriendly. I jokingly say that I think I'm the only girl in the world that hasn't fallen in love with it. I guess that's the New Yorker in me. Needless to say, I'm excited to get back to my favorite West Village coffee shops, Central Park, and the fast-paced chaos of the concrete jungle.
To get more fashion, beauty, skin care and honestly just a whole bunch of wisdom when it comes to these subjects make sure to follow her on Instagram and Facebook.