Kibsta
She had me when she dropped the first F-word, fashion, then when she said the second F- word, food, and I was done. Fashion and food how could you not be sold? Not only are they some of the best F-words around but it's exactly what you can find when you check out Kibbee's blog, Kibsta.
And before you say anything yes Kibbee is her real name and to quote what she say's on her blog, "... that's my real, full, not short for anything name - but my friends/fam call me Kibs/Kibsta!"
This talented marketer by day has turned the two things she loves into a space that she hopes can inspire others.
WHAT IS THE ONE THING THAT MAKES A GREAT OUTFIT?
I would say confidence. Recently, I started posting pictures and started wearing outfits that I never tried in the past. For instance, I would wear a lot of things that I didn't necessarily really know if I felt comfortable sharing on social media and my blog. I feel like in the past year, or so I felt more comfortable and confident in my style strengths. So I think the more confident you are in your style and the more comfortable you feel in your clothes, whether that is in your own room, or if you are going to an event, or school it definitely translates into your style.
 
YOU MENTIONED IN THE PAST YEAR YOU STARTED TO HAVE MORE CONFIDENCE IN YOUR STYLE. WHAT CHANGED?

I get a lot of inspiration from my peers and just going to local events in the city and seeing what a lot of people are wearing. I went to this one event and just wore something completely out of my element. Not as reserved, not as practical, and I got a lot of compliments, and I just thought, why not share that more? So I've been trying to incorporate more non-conventional, non-traditional looks into my wardrobe and kind of post more of that stuff. And then my focus for this next year is the share what I wear to work on a regular basis so people can see both sides. A lot of my outfits I wear can play in both worlds.
ON ANY GIVEN DAY WHAT IS YOUR "GO TO" OUTFIT?

I would say jeans, any type depending on the season. If it's winter or fall I would probably wear more of a dark wash, but right now I have on pretty light jeans, they're ankle length, so they are cropped. I usually gravitate to plain tops like white, black, or gray and then I'll throw on a blazer or a jacket. If I don't know what to wear my go-to outfit is all black, (laughing) or jeans, t-shirt, and a leather jacket. Usually, I wear sneakers because I am running from work to something after work, so I'll keep a change of shoes in my bag.
WHAT IS IT ABOUT THE COLOR BLACK?
I feel like all black...it's just one shade I know will look the same no matter the light. And when I'm shopping I always pick the black whatever it versus the color...it's appalling I know. (laughing) For some reason, I always just feel like more confident in black because sometimes, I'm not going to lie I get a little sweaty if I'm like nervous or something. Like if I'm talking in front of an audience or I'm presenting at work I feel like black hides a lot of that stuff. And the one thing with all black is that you can layer different textures too. Just because you are wearing all black doesn't mean it has to be cotton everything.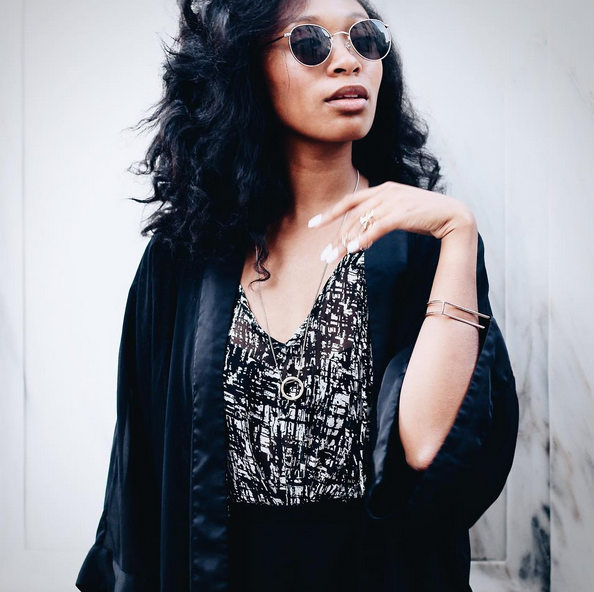 YOU HAD A POST ON YOUR BLOG ENTITLED "PUSSY POWER PLANT." IT MADE ME WONDER WITH THE SOCIAL AND POLITICAL CLIMATE THE WAY IT IS, HOW IMPORTANT DO YOU THINK WOMEN'S BLOGS ARE?
I think they are super talented. That whole post for me was a wake-up call. I mean I started my blog from the standpoint of talking about things that bothered me, or things that are going well in my life, things that are happening that I think everyone should be aware of in life. Right now with such a heavy political time in all of our lives a lot of what's happening impacts women and I think that people need to be informed. I believe that it's critical for people to take a stand no matter what side you are on at least people will know where you are coming from and your thoughts.
 
WHAT PIECES OF ADVICE DO YOU THINK YOU WOULD GIVE YOUR YOUNGER SELF?
Stop wearing so much eyeliner. (laughing) So, I have to admit I use to wear a lot of eyeliner. I don't even own eyeliner anymore. Real life advice I think it would be to speak up more. I'm a pretty reserved person, and I do believe there are times where I could've spoken up louder and more frequently for other people to know I was in the room. I believe that it's important to share your opinions no matter if you're wrong or right. I think any opportunity you have to speak you should. And then, of course, there are times where people talk a lot that probably shouldn't. (laughing) But I definitely think advocating for yourself is the most important thing you can do. I'm still learning that lesson now. I blog on the side but my goal is to do that full time, but the only way to do that is to advocate for yourself all the time. To take more jobs, to go to meet ups, to talk to and collaborate with other people.
WHAT IS KIBSTA'S FUTURE?

I've been doing a lot of soul-searching, and I'm trying to move towards doing more video pieces. I love blogging, and I love writing, but I feel like just me personally I watch a lot of YouTube videos. I feel like it's way easier to connect with someone when you hear them speak when you see them talk, and when you see them doing the actual activity versus just still life images. That connects and resonates with me. It's much easier for me to watch a five to ten minute YouTube clip of someone that I follow then check their Instagram, then go to their website, and read the post, it's just more digestible. So I think that is the next step for me.
If you're intrigued by the many things Kibs talked about take a look at her blog, Kibsta and her Instagram. We know we mainly focused on fashion in this interview but don't let the passion for fashion fool you. Food definitely plays a key part in Kibbee's blog so be sure to browse through her helpful tips and recipes for yummy food.